Here it is nearly the end of July – how did that happen and when did that happen? I can't believe it. Our grandson entered the world May 1st – all went well with his speedy arrival. Quickly followed by his Mum completing her BSN and writing her NClex exam. She is now a fully fledged RN!! I attended the BCNU  convention on the mainland went well for a week in May. My dad turned 80 in April so there was a terrific get together to celebrate. Also in April, we saw Chilliwack and Jesse Roper perform locally in April which was great. New rescue puppy joined the family in April as well – we named him Gibbs cuz he's sniper like in his licks and kisses.
Eldest daughter just headed back to Ontario after a visit with us. Wonderful to see her as always – miss her already. She continues at York working on her PhD dissertation. You can read some of her work here  http://cfr.info.yorku.ca/challenging-trafficking-in-canada-policy-brief/  In the fall, she will be travelling to a large Anthropology Conference in Washington DC where she will be presenting. Brother-in-law is up from the US of A with his wee pup for a few weeks which is great. We were down to Washington State to visit him and McNiece the end of May.
Youngest daughter is working and enjoying life. She frequents baseball diamonds and loves being around her nephews.
Our son is preparing for a wonderful roadtrip to Alberta. He is taking his son to see the amazing Royal Tyrell Museum, which is a fond memory from one of our coast to coast moves.
Hubby left a job and looks like will be starting a new one in the fall. Looking forward to a visit with longtime friends in Tofino in September. Stucco re-stuck on the lower half of the house which looks amazing, new pool liner put in since we were leaking into our neighbours yard DOH! Lots of barbeques and family time.
I continue with my work on the oncology unit and casual at Hospice. I truly love what I do and am fortunate to be able to say that as not all can.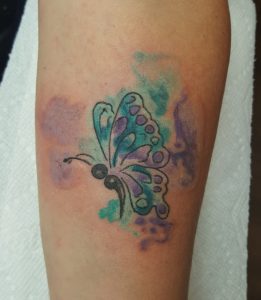 I finally got my mental health semi-colon butterfly tattoo which I love and am so happy with. Mental health is SO vital and important – just as physical and emotional health. We are all impacted by mental health. I personally have had first hand experience. Don't be afraid to speak up and talk about it. There is nothing shameful or wrong with talking and sharing. Embrace each day for what it brings, the good, the not so good, the indifferent, and breathe.
I really like this Robert Tews quote "Trust yourself. You've survived a lot, and you'll survive what ever is coming."
Peace & blessings