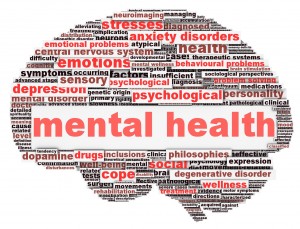 We have physical health which is our body health. This can included injuries to our body – a broken bone, a disease, or aliment. Some of these aliments are not visible to others – not limited to diabetes, fibromialgia, rheumatoid arthritis. We can talk about and or see physical health most of the time. We have emotional health which ties in with mental health. Mental health – just the word conjures up images of "One Flew Over the Cuckoos Nest". Mental health, can make you think of someone less than – someone with "issues", or "not balanced", it can discriminate and label people.
"People who are emotionally healthy are in control of their emotions and their behavior. They are able to handle life's challenges, build strong relationships, and recover from setbacks. But just as it requires effort to build or maintain physical health, so it is with mental and emotional health."
WHO defines mental health as "Mental health is defined as a state of well-being in which every individual realizes his or her own potential, can cope with the normal stresses of life, can work productively and fruitfully, and is able to make a contribution to her or his community." and continues on "Health is a state of complete physical, mental and social well-being and not merely the absence of disease or infirmity."
We hear about health all the time. We talk about our health or health of a family member. Then why  is talking about mental health so hard? What if instead of talking about "mental health" we spoke of brain health?  We all know that our brain in vital in everything we do so why is the health of the brain any different? Just like a diabetic who requires medication or insulin, often people require medications to help their brain stay health. Yet, often there is a stigma to this help for the brain.
Depression, mood disorders, eating, anxiety, bi-polar, PTSD,  OCD, the list seems to grow daily. There are many types of brain/mental health issues. You likely know or love someone who is or has struggled with  mental health issues – diagnosed or not diagnosed. I lost a close friend to depression not too long ago. It still haunts me today.  I did not know the depth of his depression. Educate yourself so that you can help those around you and perhaps you can help promote your own brain health.
Be willing to hear or learn the story about someone who is dealing with brain health issues. As a teen I went through a very difficult time with depression and yes, the suicide thoughts were around. I was fortunate that some amazing teachers at school helped me out of my despair, when at the time, there only seemed like there was one option. I am thankful for their outreach, they didn't quit or give up, the stood by me and helped me back.
Don't be afraid to talk about it – we need to get mental/brain health talked about, people to become educated and accepted as part of what is real in the world today.  This isn't going away. Please take time to pause and reflect on what is happening around you and maybe YOU can make a difference because your offered a smile or a kind word.
You could be the difference.
If you struggle with mental/brain health issues, I hope you will share and talk about your journey. Help others to understand you (as you are comfortable) and the struggles you face. If you are on medications – short term or long term, that's OK. Help us to understand. Many people are simply trying to understand and want to help. To walk beside you on your journey and support you as able 🙂
Links
Canadian Mental Health Association
Mental Illness Monsters As Snuggly Toys Making the Invisible More Tangible